It was 2 in the afternoon when Medha was just about to nod off when the bell rang. Quickly, before the baby could wake up, she ran to the front door only to find a strange man.
"Good afternoon madam, " he said cheerily, " I'm from TIME-Life magazine company."
Not another sale's pitch thought Medha who was getting fed up with this door-to-door selling that somehow thought it was good marketing strategy to come at siesta time. Before she could shut the door, the Salesman put his hand through and said, "Just one minute madam, before you close the door. This is a special scheme only till the end of the week. I can assure you it's a real bargain."
That did it . The magic word B A R G A I N piqued her interest. This was her opportunity to save some money and didn't her mother-in-law always tell her that money saved is money earned? She opened the door and allowed Mr. Agressive Salesman to come in. Suddenly her demeanour changed from sullen to interest.
"What is it you're selling?" she asked.
"Encycolpedias, madam. All the latest information on science and technology and great pictures. Your children will love using them."
"But my baby's just six month's old," said Medha, suddenly realising how foolish it would be to buy a BOOK when her baby could just about sit up without wobbling.
"Madam, but babies grow and they go to school and they always ask questions and teachers ask them to do so many projects."
" But that's a long way off," countered Medha.
"Yes I know but knowledge never goes waste. History and Geography is the same forever. The North Pole will always remain the North Pole and….."
Medha cut him off before he could lecture her on the unchanging facts of history, botany and literature.
By now Mr. Salesman had opened his satchel and taken out a slim book. " See madam, what lovely paper. And the perfect size too. And see the printing! Such perfect quality. These books will last forever. Even your grandchildren will use them."
" But I don't really want to buy just now!"
"The original price is Rs. 20,000 for 28 volumes," he persisted, "you are getting this set for only Rs. 10000 payable in installments of Rs.1000 a month. You're making a clean saving of Rs.10,000. That's 50% off"
" But I'm telling you, I don't want to buy!"
" And Madam, if you buy these books you get 5 coupons worth Rs. 3000 each so actually you are making a profit – see Rs.10000+ Rs.15000 = Rs. 25,000."
" Coupons for what?" asked Medha warily.
" For a Kerala style Ayurveda massage at the Rudra Spa. "
" I don't have time for a massage, Kerala or otherwise. And what will I do with 5 coupons?"
" You can gift them to your friends madam. You could have a spa party."
"What??? My friends don't have time for spa parties either!"
"Not to worry madam. The coupons are valid for a year so you can use them any time you want. Whenever you are free. Besides, if you are not happy with the Encyclopedias you can always get your cash back."
" Really?"
"Yes Madam, this is a TIME-Life policy – cash back guaranteed because what we want is a happy customer."
That clinched it. Hearing these re-assuring words Medha went in to get her wallet, thinking of how wise her investment was, for this was not a purchase , it was an investment in Pinky's education and there was the added benefit of the Spa Party at Rudra! Won't her friends be envious? And eventually if Rakesh made too much of a fuss, she'd always get her cash back, won't she?
"OK. Just wait. I'll get the cash."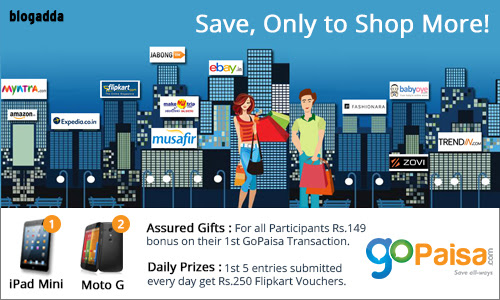 This post is a part of the Save, only to Shop More! Activity by GoPaisa.com in association with BlogAdda.com.